Keeping you on top of your business
At Beyond D' Numbers, we are here to help you stay on top and make sense of your company's performance and financial position with our bookkeeping and management reporting services.
We understand that running your business is already complicated and time-consuming in itself. That is why we will make keeping your books more streamlined and less confusing, and provide you with reports that will allow you to get your head around how your business is performing. And if you have anything to ask us, you know that you can always reach us, and we will be ready to assist you.
What to Expect:
Our accounting services cover the entire breadth of your bookkeeping and management reporting needs. These include providing you with:
Business transactions that are properly accounted
Accounting entries that are recorded accurately according to generally accepted accounting principles (GAAP)
Books of accounts that are up-to-date, particularly your cash disbursement book, cash receipt book, general ledger and general journal
How Our Accounting Service Works:
We keep things organized here at Beyond D Numbers, so here is a quick look at what it is like to work with us as your accountant:
Send us your list of business transactions. This can be a summarized list of your transactions or a digital file uploaded to a cloud server.
We will analyze and record them. We use an accounting software to record your transactions to make them easier to organize and access.
We will prepare your financial reports to summarize results of your operation. We will send these reports for you to review, including your balance sheet, profit and loss record, statement of equity and cash flow.
We will discuss the reports with you. We will set a meeting, so that you can get a better grasp of these reports and what they mean to your business.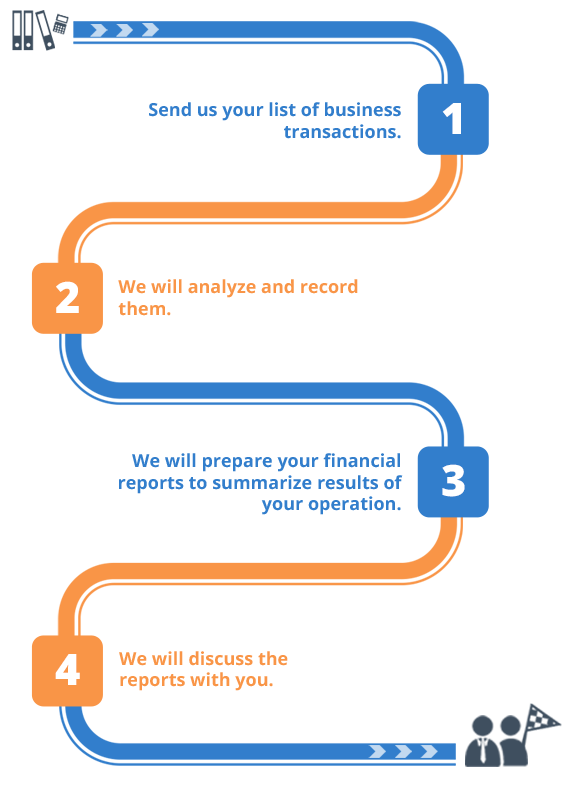 Ready to work with us? Got questions?
It is easy to get in touch with us. Give us a call at 0999-5090191 (Smart), 0917-3075927 (Globe), 7968-3960, 7358-1471 (landline),
or send us a message through our contact page.