Helping you pay the right taxes at the right time
You need to pay the right taxes at the right time to keep your business running and avoid hefty surcharges, penalties, and interest payments.
If you do not know what taxes you need to pay and how much, we are here to help.
At Beyond D Numbers, we will not just compute and file your taxes and prepare the necessary documents for you. We will also guide you on everything you need to know about taxes, so you can run your business with more confidence, from knowing which tax forms to use, how to compute your taxes and how to pay for them.
What to Expect:
From giving you tax advice to preparing your tax-related documents, you can rely on our timely and customer-friendly tax reporting and compliance services, specifically:
Giving you up-to-date advice on tax-related matters
Computing your taxes completely and accurately
Preparing your tax forms and compliance reports properly
How Our Tax Reporting and Compliance Service Works:
Here is a brief snapshot of what it looks like when you choose us as your trusted accounting consultant:
Send us your list of business transactions. This can be a summarized list of your transactions or a digital file uploaded to a cloud server.
We will prepare your tax returns and other reportorial requirements. We will then send these reports to you for your review and approval.
Review and approve the reports. Once you have reviewed and approved the reports, you can send them back to us.
We will file the approved reports to the BIR. We will file these reports electronically either through the eBIR platform or the EFPS module of BIR.
We will send you the filed forms for payment. You will also receive from us a copy of the tax forms that we filed electronically so that you may settle the payment.
Pay the taxes at the accredited bank. If you are not sure through which bank you will pay the taxes, you can ask us anytime.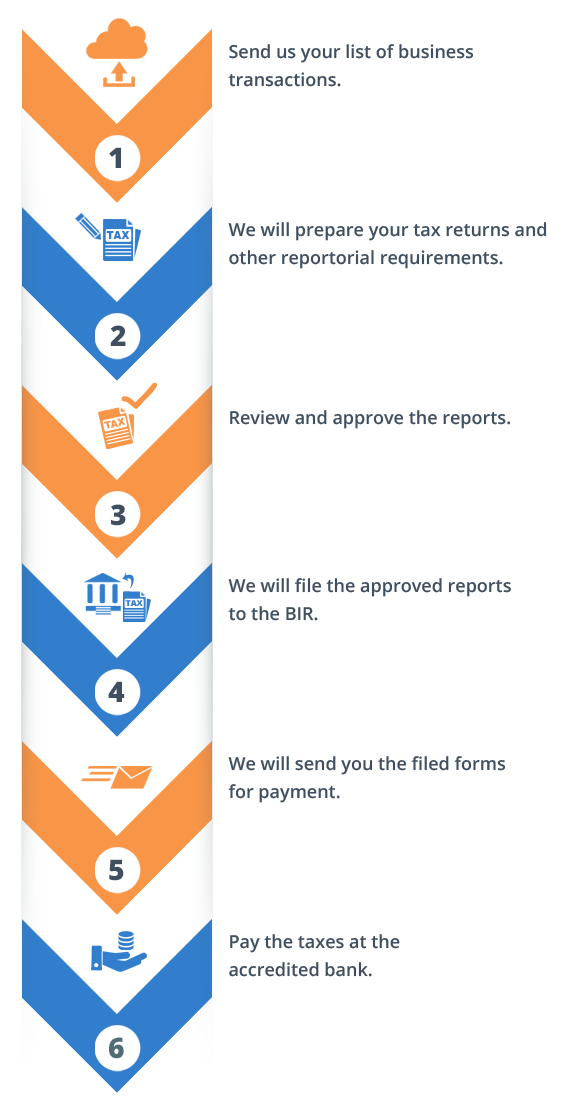 Ready to work with us? Got questions?
It is easy to get in touch with us. Give us a call at 0999-5090191 (Smart), 0917-3075927 (Globe), 7968-3960, 7358-1471 (landline),
or send us a message through our contact page.